CCS "More Than Conquerors" Running Club
"...in all these things we are more than conquerors through him who loved us."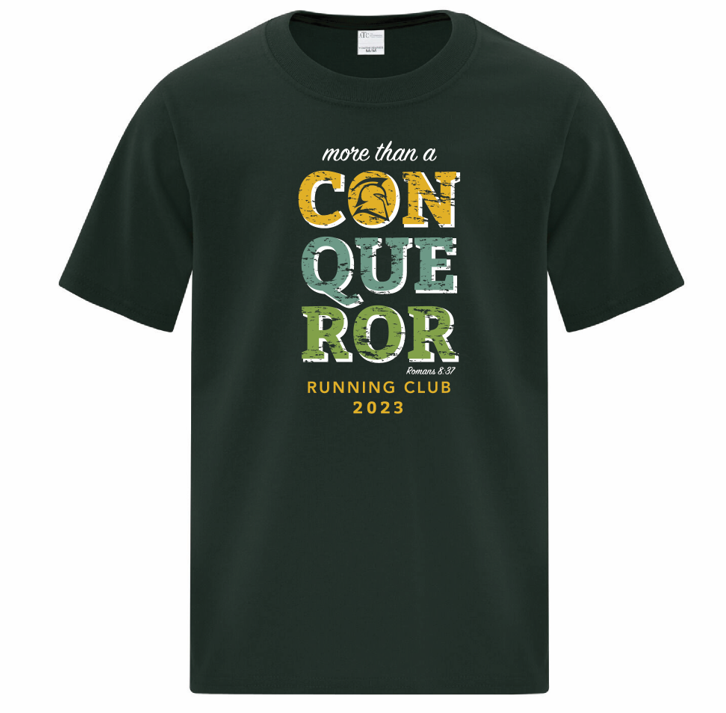 Romans 8:37
Introducing the new "More Than Conquerors" Running Club! The mission of this club is to encourage physical and spiritual growth through the disciplines of running and Scripture memorization.
Running is a great exercise that has many benefits. It's convenient, affordable, and can be a great bonding time. It also leads to numerous physical and mental benefits: running improves memory and vision, reduces anxiety and stress, improves cardiovascular health, strengthens your muscles and joints, etc. (Fun fact: Did you know running is actually good for your knees?)
However, it's not easy! Running requires training, discipline, and fortitude. So too does our spiritual walk of faith, and the two are often tied closely together in Scripture. Paul instructs us in 1 Corinthians 9:24-27, "Do you not know that in a race all the runners run, but only one receives the prize? So run that you may obtain it. Every athlete exercises self-control in all things. They do it to receive a perishable wreath, but we an imperishable. So I do not run aimlessly; I do not box as one beating the air. But I discipline my body and keep it under control, lest after preaching to others I myself should be disqualified."
It is very difficult to become physically stronger and faster, to compete in a race, when we don't train and exercise our bodies. Similarly, it is very difficult to grow spiritually stronger unless our minds are active in God's word. God instructs us to meditate on his law day and night, and memorizing his Word enables us to do this. "You shall therefore lay up these words of mine in your heart and in your soul, and you shall bind them as a sign on your hand, and they shall be a frontlets between your eyes" (Deut 11:18). Memorizing Scripture has many benefits. But, like running, it's not easy! It too requires training, discipline, and fortitude. (Fun fact: did you know that in the early centuries of the Church, elders were required to memorize all 150 psalms!? If they could do it…)
The name "More Than Conquerors" was chosen for this club because, in Christ, we have already won the battle. "I have fought the good fight, I have finished the race, I have kept the faith" (2 Timothy 4:7). Our victory is sure! We don't have to earn our way onto Christ's team (through acts like memorizing Scripture). And yet...we are still commanded to don our armour and fight. We are Christians – therefore we act accordingly. "Not that I have already obtained this or am already perfect, but I press on to make it my own, because Christ Jesus has made me his own" (Philippians 3:12).
Similarly, you don't have to earn your way into the Running Club (however, like following Jesus, it does come at a cost). Once on the team though, you will be expected to get to work! You'll receive a t-shirt that identifies you as a Running Club member, and you will be held to high standards of discipline and accountability.
Although the focus of this Club will be for students in grades 7-12, all are welcome and encouraged to join! The cost will be $35 per person. Everyone who joins will get a shirt, but only students will receive a prize at the end. Students can use funds from their fundraising accounts to join. Fees from non-student members will help pay for program costs.
The official program will run from the beginning of June until October. The season will include a fun family-friendly hike in the CNP, and club members will be required to run once per week throughout the summer. In September, the program will ramp up and training will increase to 2-3x per week. (See table below for an example of what the running program will look like. Age-specific programs will be available to students prior to the June start). Students will be expected to finish the season by participating in Southern Alberta Cross-Country (XC) Zones in October. Scripture passages (typically a Psalm) will be assigned once/month. Non-student members are encouraged to develop their own running program and goals; it could be as simple as getting out for a walk once per week.
The reward for students at the end of the program will consist of a book, a pizza party, and a $25 gift card to Runner's Soul! To be eligible for the prize, however, students must adhere to the program, must be able to recite one of the Scripture passages, and must participate in XC zones. (Bonus prize for the students who can recite all four passages!)
To help encourage one another and hold each other accountable, students will be paired with an older student as a mentor. Mentors are encouraged to check in periodically with their mentees and ask how they're doing, perhaps taking the time to run with them as well. Non-students members are encouraged to find an accountability partner within the club. All members are encouraged to use their time running to meditate on the chosen Scripture passage. Ditch the earbuds, and strengthen your physical and spiritual muscles at the same time!
Although the program officially ends in October, the hope is that club members are inspired to continue running and memorizing Scripture throughout the year. A whatsapp group will be formed to help with continued encouragement and to coordinate group activities/runs.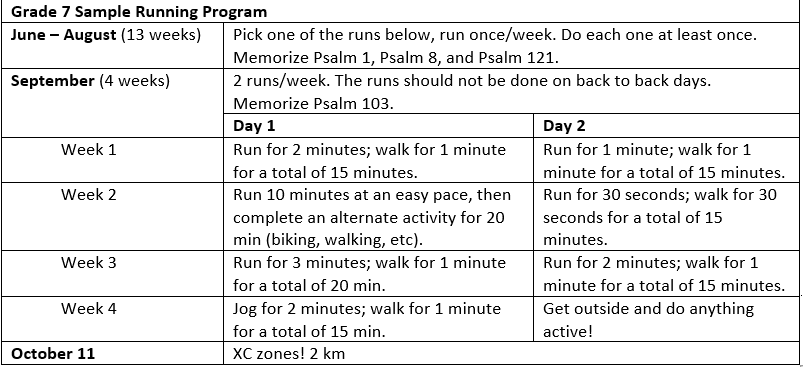 (You may also walk in the coulees or hike in the mountains in lieu of your run, as this is a great exercise that strengthens different muscles and is very conducive to meditating on God's word. Try to run up the hills!)
We hope and pray that this endeavour may be a blessing to us individually and as a communion of saints. "Therefore, since we are surrounded by so great a cloud of witnesses, let us also lay aside every weight, and sin which clings so closely, and let us run with endurance the race that is set before us, looking to Jesus, the founder and perfecter of our faith, who for the joy that was set before him endured the cross, despising the shame, and is seated at the right hand of the throne of God (Hebrews 12:1-2).
To sign up, contact Melanie Harthoorn at ccsconqueror@gmail.com.